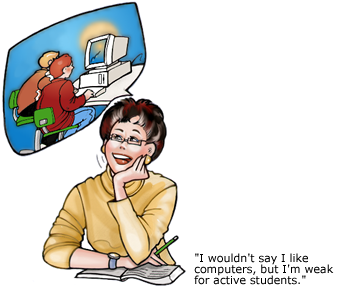 Language teachers
Lingonet products are an invaluable resource for language teachers because of the support they give them in their jobs. For example, a teacher may ask his/her students to virtually interview persons on screen and then report the results in written and spoken form. This may include summarizing different opinions, evaluating them, comparing them to their own views, etc. Thus, the authentic material enables many traditional activities to be applied in a more powerful form.
Interactive exercises attract students in a new way. Thanks to digital multimedia, exercises engage the eye, ear and mind, mimicking real life experiences.
About Lingonet Software ...
"Very briefly, comments from EFL teachers regarding your software indicate that the use of authentic English spoken by a range of native speakers of different ages, accents, backgrounds etc. is a very useful resource for students. Also the fact that they are speaking in a natural way in terms of speed and vocabulary etc. is a refreshing change from many programs which use unnatural scripted language spoken by actors. There is also lots and lots of materials to exploit in your programs and the fact that teachers can print off worksheets was considered very beneficial."
Janet Bartle
Academic Co-ordinator, C&IT
LTSN Subject Centre for Languages, Linguistics and Area Studies
Language Institute
University of Hull, UK